I LOVE MINT! Peppermint, spearmint, you name it. People used to joke that it was because my maiden name is "Mintman." A teacher of mine even nicknamed me, "Minty." I love mints all year round but Christmas is a time when we see it most. The frosty coolness, the "ah"ness of it all! My mom even grew mint in the backyard. I remember she would snip it and add it to her iced tea.
Unfortunately, the best mint cookies in the world (Girl Scout cookies) alas are only available once a year, but they wouldn't be so special if they were available year round.
Here's my favorite Christmas cookie recipe: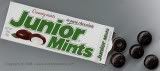 2 boxes Junior Mints
1/2 cup margarine or butter

1 cup sugar
1/2 cup brown sugar
2 tbsp vanilla
1/2 tsp salt
1 tbsp baking soda
2 eggs

3-1/2 cups flour

2 eggs

Cream margarine and sugar. Add vanilla, salt and eggs. Mix well. Blend in flour. Shape into about 1" balls. Press 1 mint in center of each. Bake at 350 degrees for about 7 minutes.
One of my favorite stores, Bath and Body Works features this:
Gotta stock up now before it's gone for another year. YUM!! (Can you smell the mint yet?!)
Let's hear it for mints! YAY!!! (High-fiving my sibs!!!)