Emily had outpatient foot surgery this morning. If you recall
this
, her broken foot turned out to be a blessing in disguise. It was discovered on the xrays that she had a noncancerous cyst in her right heel. The doctor called it, "like walking on eggshells," as the bone could have shattered if she would have jumped or come down on it firmly.
They made a two-inch incision on the right side of her heel, scraped out the cyst and filled it with cadaver bone graft material ("dead people bones!" Emily petulantly calls it!) Next week she goes for her cast which she'll wear for six weeks.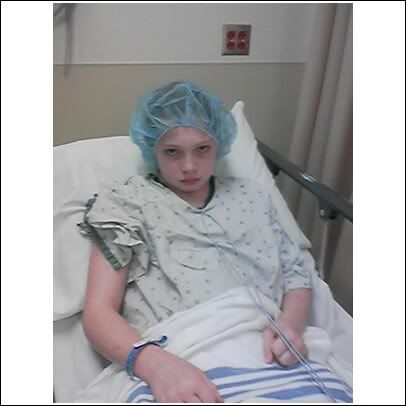 This picture was taken right before surgery. She has a phobia of needles. Shortly after this, the nice anesthesiologist okayed her going under the mask before the IV was inserted. She also had a nerve block, so she has no feeling in her leg. She's flying around the house on crutches like nothing right now. I have the Tylenol with codeine ready for when that block wears off!