My friend, Kristen, commented tonight that my house doesn't seem like a home that consists of a mom and two daughters, but more like a place with three girls living there. That's the way it's been lately: dirty dishes in the sink, clean clothes piled up in laundry baskets, tubs of Christmas decorations still waiting to be put in storage, and loud music blaring!

My busy work hours will be here soon enough so in the mean time we are going to have fun! Life is too short to stress out over a messy house. My girls are going to be grown and gone before I know it, so I want to relish every moment! We're on the run more than we are at home and when we're at home, it's time to relax and destress.
Now that my room is finished, I feel like a teenager again in a way. After all, it's been that long since I've had my own room (and even then it was temporary--my sisters and I alternated having our own room). I'm spending a lot of time catching up on my journal writing, reading, praying, planning my future, and sometimes just daydreaming--guilt free! (It's a beautiful thing.)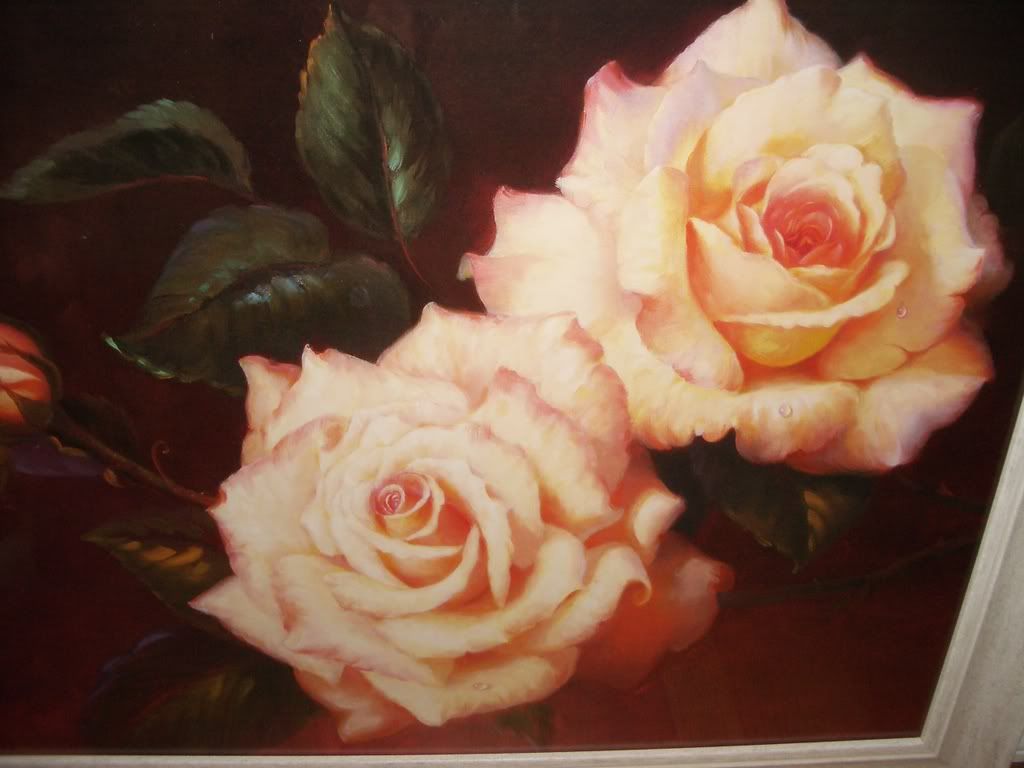 This is the print I bought for my room. I love pink roses! Pale pink roses connote grace, gentleness, and gratitude.

Here's a view of my dresser. Barb bought me those cool inspirational plates for Christmas. The cute snowman is from Kristen. The gold candle sconces were a gift from a partner at work, and the candles I bought at World Market. They have funky aromas that remind me of Bangladesh!

This cute monkey sits astride my bargain floor lamp. He's a reminder of my future travels. The stars behind him symbolize dreams. (I never realized until I typed this how much symbolism is in my life these days!)
Enough fun for now, time to be a grownup for a short time and pay the bills or do dishes or something!